So I'm in a band (WPBB) that was scheduled to play The Elliott Street Pub on April 12, 2013.  Our last date at Elliott Street Pub was memorable.  This place is a really small, really cool and totally funky dive/joint.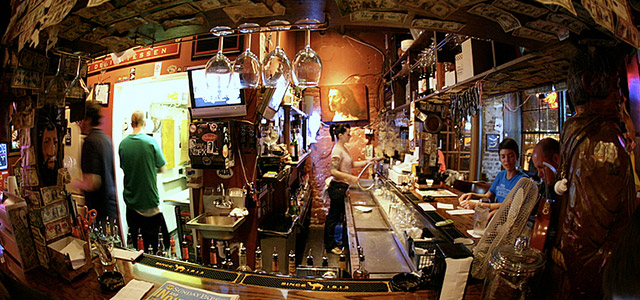 Elliott Street is in the shadow of the (soon to be no more) Georgia Dome and downtown Atlanta.  Last time we played out on the street and enjoyed a good response.  Wasted Potential plays second-line and NOLA style brass band music in Atlanta. This time we were ready but lost our singer to his family spring break.  Not defeated, we decided to forge ahead and began rehearsals with the smaller group… when we lost our lead trumpet player to a gig in Augusta, at The Masters.
What now?  At that point, we consider to canceling the gig.  Jamie, our trombone player, called the pub owner to explain and was advised that the pub owner had spent considerable resources promoting that night.  Elliott Street is in the resurgent neighborhood of Castelberry Hill.  Lots of arts and artists, a fair amount of history (cool old buildings, a rare thing in the ATL).  So that night the neighborhood had an Art Walk.  Elliott Street was off the path but within earshot, so the pub owner fully expected to see Art stragglers and neighborhood hipsters.
So we were stuck.  Jamie rallied us together to play the gig.  Jamie found a new guy to sit-in on tenor sax; he hadn't played with us yet and with this band, it's STEEP learning curve.  Also, were lucky enough to have a strong (but busy) alto-player.  So we had bodies but the core of the band (vocal/entertainer and trumpet) were missing.  As far as vocals went, we opted to play fewer traditional, melodic NOLA tunes in favor of second-line and hip-hop jump style.  We practiced with the smaller group and, to be honest, we were pretty nervous about carrying this gig while being short-handed.
It turned out great!  The place was jumping.  We had the best crowd I can remember.  Although Elliott Street Pub's stage is in the basement we played out on the street between parked cars.  Once the people arrived and we began to play, the little bar emptied out and the street filled up.
Over time I've realized that constraints force creativity.  As a drummer, the fewer choices I have (drums, cymbals, sounds) sometimes the more I lock in and do great stuff.  Being backed into a corner can be a great motivator.