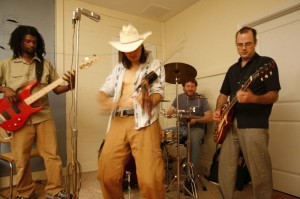 Stonehouse Posse was/is a "high testosterone hillbilly" band. The sound is "drunk and disorderly, brilliant and extra-centric, assault and battery. Itching and burning, scalded dogs chasing skinned cats around charded trees."  The Posse played from 2006 onward, but I stepped aside in 2008.  I did get a chance to sit in on the most recent recording (2011) though.
I was pulled into the Posse thanks to John Ferguson, the great guitarist from Atlanta's cajun/zydeco band, Hair of the Dog.
The Stonehouse. Ferguson made a living renovating houses during Atlanta's post Olympic in-town housing boom. One of his projects was a collapsed building behind a vacant lot near his house.  Inside a disaster but outside the house had cool stonework.  It would have been more practical to tear the house down but, being Ferguson–he fixed-up the historic structure.  So close to Ferguson's house, the Stonehouse was a husband's getaway –a man cave– and a practice space for the band.

The Posse.  In Spring 2006, Ferguson called me to sit-in with a new band he was forming where he would be front man, mixing cajun, piedmont blues and lesser known roots music.  But, this time he'd play fiddle and sing.  Now, Ferg is a great rockabilly player: equal parts Keith Richards, Jimmy Cliff, and Jimmy Page.  His old Rockin Bones bandmate Dave Duncan would be on guitar (just back from New Orleans), and great guitarist/vocalist Chris Tinsley (from Follow for Now) would play bass.  The boys practiced several nights a week.
On Sundays I came to play. Guys night out. Blues and hillbilly, vintage guitars and fiddle in a funky old shack.  It could devolve into Zeppelin or Wild Tchoupatoulas.  A cast of characters would come out to listen.  At Ferguson's request many became part of the sound.  Especially Philip Hart.
Philip was a large man, a plumber who worked with Ferg on various renovation projects.  At first he'd come to listen, have a little drink.  Hang out.  Ferguson had a way of drawing you in, asking you to do things that never occurred to you.  He asked Philip to rap on one song ("Stop Sign") but before long Philip was a regular on backup vocals.  Outside of church, he probably hadn't sang much but his deep voice, big eyes, giant presence and humor gave the hillbilly jam a broader dimension.
Other characters included Garrett (who stomped and screamed through "Slice").  Del and Kurt (who Del called Phili-pachie) left their marks on lyrics and hillbilly attitude.  Russell (Eats, across from City Hall) helped with some of the later recordings but his biggest contribution was bringing his girlfriend, surprise Brazillian talent Letecia Arioli (who sang beautifully and – for effect, cussed out Ferg in Portuguese to add color to "Stop Sign").  With Leticia we spun off another short-lived band called La Tiza and Stonehouse Posse.
The process.  Having just finished playing with crisp, tight and melodic Screen Door, the Posse process was wildly different and endearing.  A Ferg brought songs in to the group, he didn't have a set prescription on the outcome.  Time was given to evolve each song and let ideas just pop-up.  After my posse days were over, I read an article about The Rolling Stones recording experience on Exile on Main Street.  Holed up in a house in France, they'd practice for hours upon hours and then at some point reach an idea and get it down on tape.
A lot of the Stonehouse songs came about that way, at least the way I remember it.  Ferg was generous with others ideas and if maybe indecisive about direction, eventually it all came together.  Sometimes mistakes committed to tape turned into the best elements.  As in software where a bug becomes a feature, a missed queue on Stop Sign opened the door through which Leticia could add surprise magic.  And we hadn't even met her when the songs first took shape.
Roulez E.C (2006).  
I loved it.  Stonehouse Posse had an amazing first three months.  We pulled together an hour of unique, really cool and organic roots music. We made some dirty but compelling recordings on an old cassette four-track.  Every track was recorded live in an empty, echoey living room in the storehouse.  Dave took the recordings and cobbled together some pretty good mixes over the summer.  In the Fall we knocked out an audience at the East Atlanta Strut.  For me, that was the high point of the adventure.  The new tunes went over great and Ferguson's original songs.  To this day, I still fall into hypnosis and euphoria when I hear Roulez E.C.