Wasted Potential is a bonafide New Orleans-style Second Line brass band, based in Atlanta.  A readers-choice award winner in Atlanta's Creative Loafing, WPBB is a favorite and parades, festivals and the streets of Atlanta in Little Five Points, Cabbagetown and Decatur.  It's what fun sounds like. 
What's in a name?  One summer, the Lucky Dogs became Wasted Potential.  Others may remember differently but, to my memory, Wasted Potential started when the band needed a name.  And the band didn't really need a name until asked to play a festival (Decatur BBQ, Bluegrass and Blues).
Decatur has a lot of festivals that raise money for community projects and grants. Some are big events.  This particular one usually drew 5000 people and the entire project comes together thanks to volunteers.  One year the festival planning committee was behind schedule.  On this year, the festival was weeks away they hadn't set the band roster yet.  One Thursday the committee convened at Steinbeck's Ale House (in Oakhurst) on one of the sweaty summer nights when the band played on the patio.
By now the band was getting tight.  Most of the guys played together for two summers and our historically loose jams became tight.  As the festival committee met to identify this year's headliner, the band started playing.  Sincronicity.  They hired us on the spot.  We agreed.  "What is the name of your band?"  In fact, there wasn't a suitable name at that point.  We had to come up with one so at the next gig, we put the idea to the audience: "what should this band be called?"   The name Wasted Potential came from one of the bar patrons.
New Orleans feel.  The Lucky Dogs were (more or less) a blues band that pulled off some comical parodies and standards driven by our lovable and entertaining frontman, Evan Frayer.  For years, Evan and Mico Bowles (trumpet) took pilgrimages to New Orleans to hear and play music.  They'd take an Amtrak train both ways, part and play and then save the act of sleeping for the return trip.  Mico has always had a flare for New Orleans-style playing.
During Mardi Gras season of 2011, Jesse Vogel, Jamie Hemphill and myself boarded the train with Evan and Mico in Atlanta.  Myself, I had scarce experience with New Orleans drumming; I'd watched a few YouTube videos, strapped on a snare drum and away we went.  Jamie put the bass guitar down and picked up a tuba.  Now as an unplugged and mobile unit, we boarded the train at 7:00am (no small feat for this crowd) for a 12 hour trip to the French Quarter.  Drinking began about half way there.  We began playing at 3:00 in the bar car. Arriving at 7pm, we drifted past parades, into pubs and bars, got lost and found again — ultimately landing at Lafitte's Blacksmith Shoppe at midnight where we sat in with piano man Mike Hood.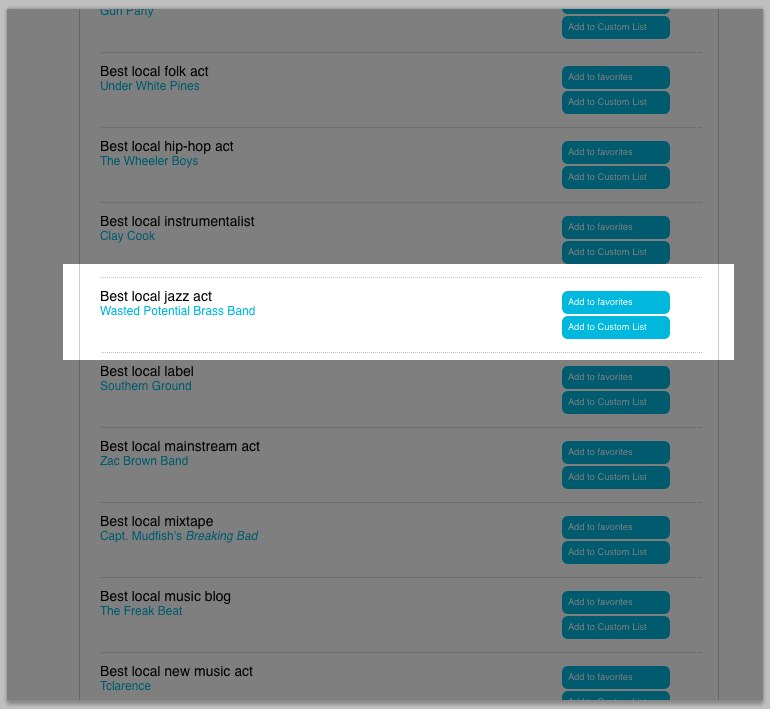 Since that trip, the bands music took a sharp turn toward New Orleans.  Gradually our blues covers and originals have fallen to the wayside.  We still do pop covers, but in a second-line style.  Trumpet player Jesse (who, as a student of Mico's, has been hanging with us since the Lucky Dog days at Steinbecks) adds to the mix rapping freestyle hip-hop jams, and draws young listeners in with Wasted Potential versions of hip hop old school standards, like Big Pimpin and Mo Money Mo Problems.
Since then, we lucked out and found young tuba dynamo Darius Prevost, freeing Jamie to play trombone.  Darius is a tireless and tasteful player.  More mobile than ever, Wasted Potential (or as Jesse rhymes "the W.P.B.B") has done festivals and parades, bars and weddings (at representative sample of same-sex marriages), and a goodly number of gigs in the streets of Atlanta.  We keep making friends (like Baton Bob) and the good readers of Atlanta Creative Loafing have voted us best "jazz" band in 2012.